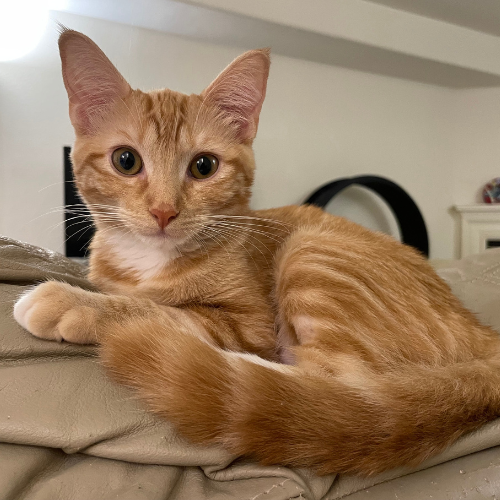 Panini's Story
Our newest addition
Panini has brought a sense of renewed hope and comfort to our family after the loss of our beloved Pumpkin. The void left by Pumpkin's absence was felt deeply by all of us, including her feline brothers and sisters.
In our quest to honor Pumpkin's memory, we embarked on a heartfelt search for a new companion—a little orange tabby who could evoke the spirit of our dear Pumpkin. And that's how Panini found her way into our lives, like a beautiful quilt fashioned from Pumpkin's sashes, woven together with love and memories.


Heartwarming journey
Panini's journey to our family is as unique as it is heartwarming.
She originates from Compton, an area known for its challenges in the heart of Los Angeles. A young woman living in Compton had put out an advertisement seeking a loving home for a precious kitten. After several heartfelt exchanges, she chose to entrust Panini to our care.


Pumpkini's reincarnation
Panini is more than just a visual reminder of Pumpkin; she embodies Pumpkin's endearing personality and charm. In many ways, it feels as though Pumpkin's spirit lives on in Panini as if she were Pumpkin's very reincarnation. Panini has quickly become an integral part of our family, filling our hearts with profound gratitude and warmth.